As both a carpenter and a cabinetmaker, I can offer a wide range of skills and experience with modern green building and traditional natural building techniques from foundation to finish carpentry. I have extensive experience with new construction as well as renovating older homes.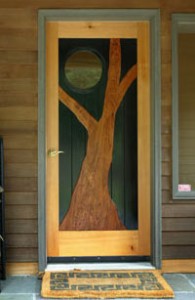 "I have had a number of projects designed and installed by Simon. His artful, aesthetic sense, patience, craftsmanship and integrity have prompted my frequent collaborations with him and many compliments from all who visit our home. Our front door is the first of Simon's work to be admired by guests. Our UPS delivery person often remarks as I greet him at the door, 'That is the most awesome door!'  Coming from a guy who spends his time knocking on doors, I think that says it all!  While Simon's work is distinctive, functional and beautiful, his demeanor and personality bring an equal amount of pleasure to our home."
D.L. Alford, MA
A lot of people love the idea of working together (see the consulting and coaching pages) but, when they see how much work is involved, they often just ask me to do it. This is the most typical arrangement I have with clients and the way most carpenters work. However, I still work closely with you to maintain good communication throughout to ensure the project is completed to your satisfaction.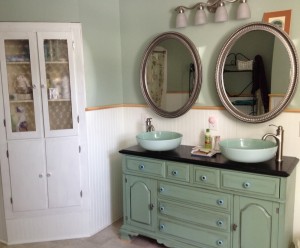 "Simon is a comfortable person to work with and a skilled craftsman who cares about detail.  He worked collaboratively, checking in as the work progressed, both offering his opinion and soliciting ours.  He dealt with the vagaries of old plumbing with humor and converted a buffet into a 2-sink vanity that is the focal point of our new bathroom."
D.G. Brunswick, NY